Dr. Govind Saini – Managing Director at Vaishali Hospital Jaipur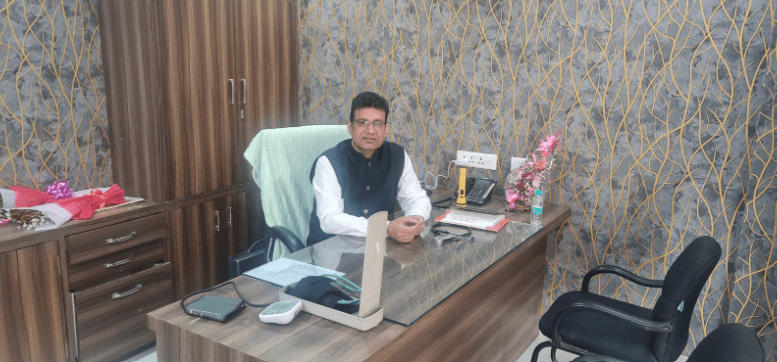 Dr. Govind Saini, Managing Director at Vaishali Hospital, Jaipur is a renowned & trained physician with over 25 years of enriched medical experience. He completed his MBBS from Sardar Patel Medical College in Bikaner and obtained his doctorate from SPM in Bikaner. He is also a member of the Indian Medical Association (IMA) and the Rajasthan Medical Council (RMC). He has been associated with various hospitals in Jaipur and has gained a wealth of knowledge in various fields of medicine. AMRC, a state-of-the-art hospital in Mansarovar, Jaipur, has also been under his management for more than two decades. He has a strong reputation for providing excellent care to his patients and has a large number of satisfied patients.
He is highly skilled in diagnosing and treating diseases and disorders and is passionate about providing quality healthcare to his patients. He is well versed in clinical diagnosis, counseling, handling medical emergencies 24x7, and follow-ups. Dr. Govind also regularly attends conferences to stay up-to-date on medical advancements, as well as continuing education programs so he can provide the best possible care for all of his patients. He prides himself on keeping abreast of new technologies and treatments available to ensure that every patient he treats gets the most advanced form of care available today.
Dr. Govind Saini believes in the power of holistic healing and takes great pride in his work.He has built a successful practice over the years and has many loyal patients who have been seeking treatment from him for years. He has an awesome experience in treating all types of diseases, including hypertension, diabetes mellitus, allergy, tuberculosis, thyroid, and C.V.S disease. He has a passion for helping his patients and takes a holistic approach to medicine with a strong belief in the importance of the mind-body connection and how it affects our overall health.
Dr. Govind Saini is dedicated to his work and takes a personal interest in the well-being of his patients. He always puts the needs of his patients first and strives to provide them with the best possible care. He is a compassionate doctor who genuinely cares about his patients and their health. He is a true healer and believes in doing what is best for his patients. He is one of the embodiments of a true medical professional & is an example to many aspiring doctors.